July 21, 2021
Simple Yogi Tea For Immune Support
This time of year in Michigan, the weather is unpredictable. We can have one day with mild weather, and by the next morning have snow, followed by rain that afternoon. Temperatures vary so much, it's not odd to see snow, hail, rain and sun all in the same week. Such weather changes can assist in weakening your immune system, leaving you more susceptible to viruses which thrive in colder weather. 1
During this springtime, seasonal allergies, viruses and colds are common. This year we are still struggling with COVID-19 and immune support is more important than ever.
Yogi Tea is helpful in assisting in immune support, while having simple ingredients that are most likely already in your pantry. The origins of Yogi Tea come from Yogi Bhajan, who practiced Ayurveda and taught yoga. This simple tea showcases a variety of spices common to India with health benefits.
Yogi Tea is a spiced tea, with warming properties. This tea is comprised of black peppercorns, ginger, cardamom, cloves and cinnamon.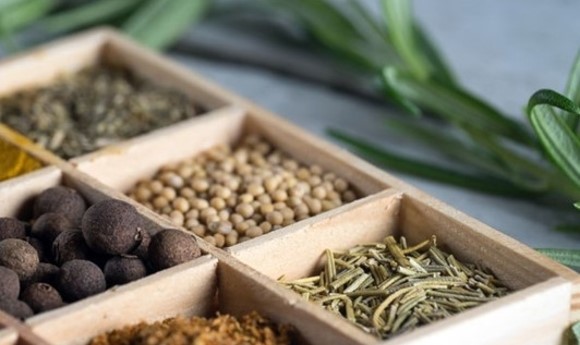 Black Peppercorns are rich in antioxidants, boosts nutrient absorption and improves gastrointestinal functionality in digestion. 2 Piperine is present in black peppercorn, and studies have shown this alkaloid has anti-inflammatory properties as well as being able to naturally reduce insulin-resistance. 3
Cardamom is rich in compounds and anti-oxidants that fight inflammation. 4,5 Micro-nutrients manganese, magnesium, zinc and potassium are cardamom active nutrients. These micro-nutrients assist in blood circulation, tissue regeneration and repair, and overall metabolic health. Cardamom, part of the ginger family, is known to be useful in enhancing digestion and reducing gas. 6
Cinnamon contains Cinnamaldehyde, which has anti-viral, anti-bacterial and anti-fungal properties. 7,8,9,10 Ceylon Cinnamon is preferred due to low coumarin levels and delicate taste. 11
Cloves among spices show a higher content of polyphenols and antioxidant compounds. In addition, the anti-microbial activities of clove have been proven effective against fungal and bacterial strains. 12
Ginger is well documented in studies to treat a wide range of ailments. Ginger is proven as an anti-inflammatory, assisting in reduction of muscle pain. Documented with ingredients gingerols, shogaol and paradols which aid in the prevention of certain cancers. Ginger is also well documented for gastrointestinal health. 13
This recipe does not call for the tea to be boiled. Instead, this recipe uses a French press. I like the ritual of preparing and watching my tea steep. I keep the water at 185 degrees and pour over the spices instead of sprinkling them into the French press.
I also use Biglow Constant Comment Black Tea due to the slight orange citrus that it is blended with. Even by itself, I love this tea in the fall and winter especially.  
I hope you enjoy this recipe as much as I did. I wish you much health and happiness,
Sarah
Ingredients:
½ Teaspoon Ground Ginger (I use Simply Organic Ground Ginger)
1 Tablespoon Cloves (I use Simply Organic Whole Cloves)
Pinch of Black Peppercorns (I use Simply Organic Mixed Whole Peppercorn Medley)
1 Teaspoon Ground Cinnamon (I use Simply Organic Ground Cinnamon)
1 Teaspoon Cardamom Seed Powder (I use Simply Organic Ground Cardamom)
1 Teabag (I use Bigelow Constant Comment Black Tea)
Optional: Honey (I use Nature Nate's Raw Unfiltered Organic Honey or a Chai Spice Infused Honey I make) Recipe For Chai Spice Infused Honey here.
Directions:
Add all ingredients into a French press. Pour over hot water and steep for 5-8 minutes. Strain and serve in your favorite tea cup. Optionally, you can sweeten with honey keeping in mind the nutrition chart below does not include this.
Nutrition:
Calories 38 kcal

Fat 2.36g

Sodium 22mg

Sugar 0.93g

Calcium 94mg
Carbohydrates 4.06g

Saturated Fat 0.494g

Potassium 0.49g

Vitamin A 34IU

Iron .55g
Protein 1.27g

Cholesterol 2mg

Fiber 1.8g

Vitamin C 0.1mg
These statements have not been evaluated by the Food and Drug Administration. This recipe and or contents of blog post are not intended to diagnose, treat, cure or prevent any disease. For more information on our terms and conditions, read here.
References: