August 25th, 2021
Avalon's SPF Guide For Healthy Skin
As an aesthetician, I speak with clients every week on the importance of sunscreen. Even as numbers increase at a frightening rate for skin cancer, I find that I meet many who are either applying sunscreen ineffectively, or not re-applying sunscreen at the appropriate times, or not applying sunscreen at all. The information below is not a scare tactic, it is simply information on the truth about skin cancer and sunscreen. My hope is to educate, assist in healthy skin care choices, and explain why I offer what I retail.
The CDC's statistics state 70% of adults reported using a type of sun protection on warm, sunny days, with only 10% of teenagers reporting as using sun protection (1). This does not take into account the percentage of people who use sunscreen on cloudy days, which in my opinion, I fear is far less in those stated percentages.  
In 2020, the American Cancer Society reported 100,350 new cases of melanoma (skin cancer). In this same year, there was 6, 850 reported melanoma deaths (2). In another study from Cancer.Org, they reported that there are two melanoma deaths for every hour in the United States (3).
In the past decade (2011 – 2021), the number of new invasive melanoma cases diagnosed annually increased by 44 percent, and the rates of melanoma cases are estimated to increase by 5.8 percent in 2021 (3).
Melanoma is not the only form of skin cancer on the rise. According to a new study published in the Journal of the American Academy of Dermatology, 2,488 cases of the "rare" Merkel Cell Cancer was diagnosed. Researchers predict this number to increase to 3,284 cases by 2025. To put these numbers in perspective, they estimate the cases of Merkel Cell Carcinoma to rise six times faster than other types of skin cancers and twice as fast as melanoma (4).
As an aesthetician , I explain to my clients how to properly apply sunscreen, and advise accordingly to their fitzpatrick phototyping scale, age, and lifestyle.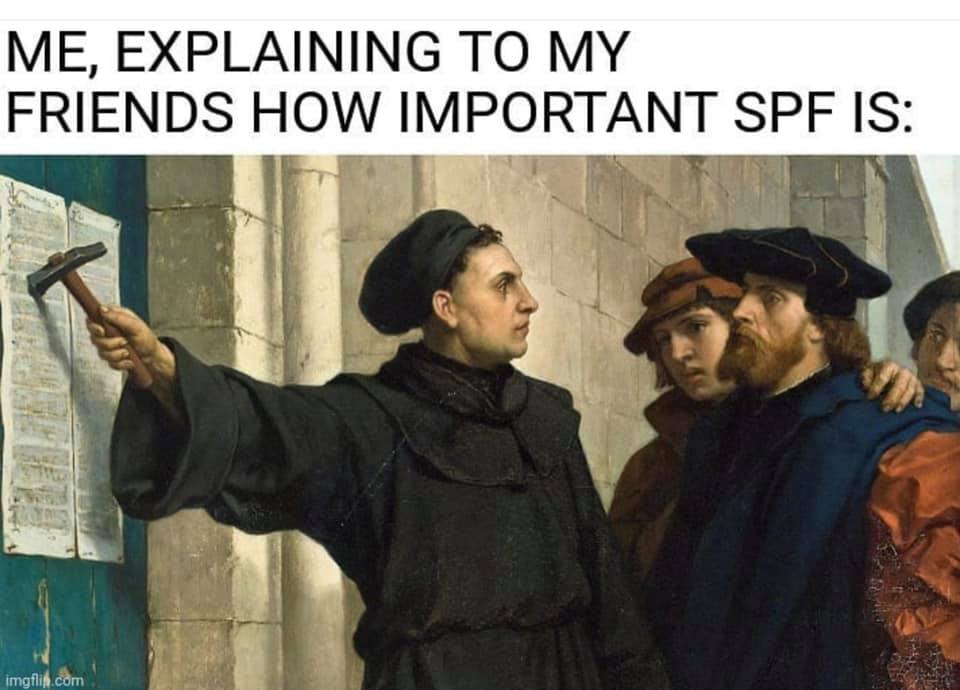 Read my blog and take a Fitzpatrick Skin Scale Test Here.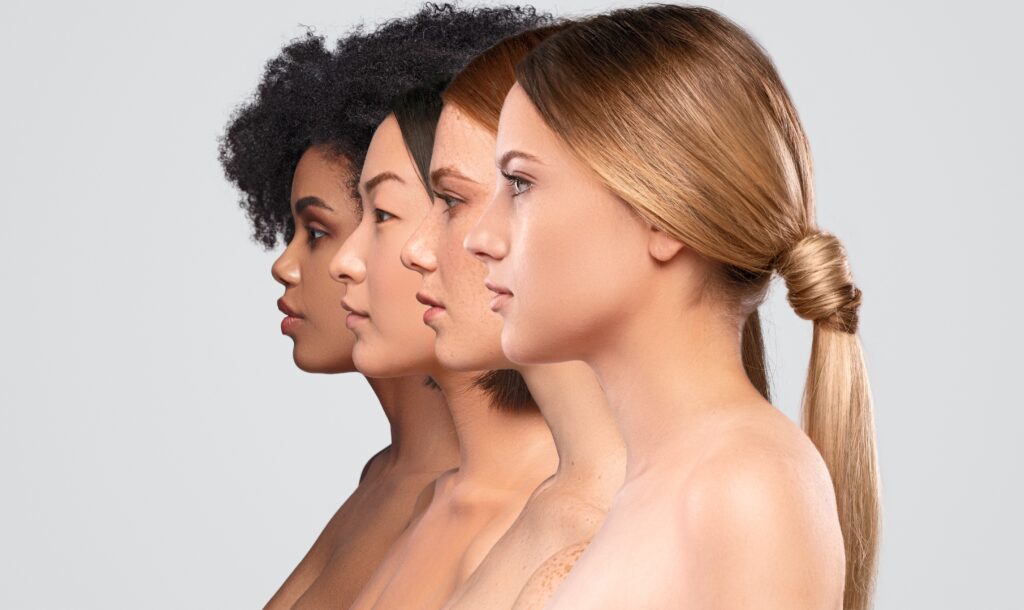 There are many reasons why its important to know and understand your Fitzpatrick Scale. Knowing your type can assist in making the appropriate skin care product choices which will protect you against sun damage and resulting skin conditions.
How To Apply Sunscreen
The American Academy of Dermatology Association suggests the following:
●Use an SPF of 30 or higher. The American Academy of Dermatology always recommends an SPF of 30, because it is clinically proven to be a sufficient amount of protection to reduce or minimize the adverse effects of sunlight. Do not used expired sunscreen.
●Use SPF year long, even in cloudy days or the winter you are still exposued to the sun's harmful UV rays.
●Apply sunscreen 15 minutes before sun exposure. Most adults need 1 ounce for full body coverage. The UV-Filtering chemicals need time to absorb into the skin and form a layer of protection.
●For lip protection, apply a lip product with an SPF 15 or higher.
●Reapply every two hours, or immediately after sweating or swimming.
How Sunscreen Has Changed Over Time
Skincare, Warfare Strategies and A Bit of Chemistry
The first US led synthetic sunscreen launched in 1928. This formula was an emulsion of benzyl salicylate and benzyl cinnamate, and was not commercialized widely to the mass market (5).
Commercialized sunscreen launched in 1932, when Australian Blake Milton, a young adelaide chemist launched commercial sunscreen in 1932 with the funding help from friends and family and produced 500 tubes of "sunburn preventative cream". Four years later, in 1936, French chemist Eugene Schueller brought the first commercial sunscreen to the United States market through his company L'Oreal.  United States airman, later turned pharmacist Benjamin Green, used a red, sticky veterinary petrolatum to create sunscreen for soldiers in the pacific tropics during World War II. The sunscreen named Red Vet Pet, was later sold, improved and rebranded under Coppertone Girl. In 1946, Austrian chemist Franz Greiter launched the first modern sunscreen called Gletscher Crème (Glacier Cream) which went on to become the company Piz Buin. The "modern" sunscreen was ineffective by today's standards of having an estimated SPF 2, however Franz Greiter went on to invent Sun Protection Factor (SPF), a system in which  measures the amount of sun exposure (6).
Sunscreen today, is not only effective in protecting against sun exposure, it takes less than 10 minutes to become fully functional in vivo.
The variety on the market ranges by type of sunscreen, SPF types, and more.
How Does SPF Work Anyway?
An SPF 30 blocks 97% of UVB rays, while SPF 50 blocks 98% of UVB rays, making the difference between SPF 30 and SPF 50 as 1%. Typically, the market price for most SPF 50 products are higher than SPF 30. In fact, when considering the amount of coverage, an SPF 100 only blocks 99%.
Another thing to consider, is that SPF does not measure the time allowed for sun exposure, but the amount of sun exposure. The American Academy of Dermatology recommends that we reapply every two hours during sun exposure, but I would not recommend a client with fair skin, low Fitzpatrick phototyping scale, at two pm in the afternoon, full sun exposure with no shade on a beach wait two hours to reapply. What if this same client was at a mountain resort at six pm, and was sitting by a restaurant window watching the sun set?
For the above reasons, as a skin care professional, I can understand the general confusion on which SPF is better, how often to apply
What's In Your Sunscreen?
All of these are reef safe!
Lira Clinical 30 Oil-Free $44.00
This all-in-one solar guardian works with any skin type but is most effective for those with oily or combination skin. Through the power of yarrow root, slippery elm, reservatrol, oat & halidrys siliquosa extracts, and lilac & echinacea plant stem cells, the SPF Solar Shield 30 Oil-Free will smoothe, brighten, heal, and most of all protect your vulnerable skin. Specifically designed to calm redness and help address oily or acne-prone skin while providing maximum protection against the sun.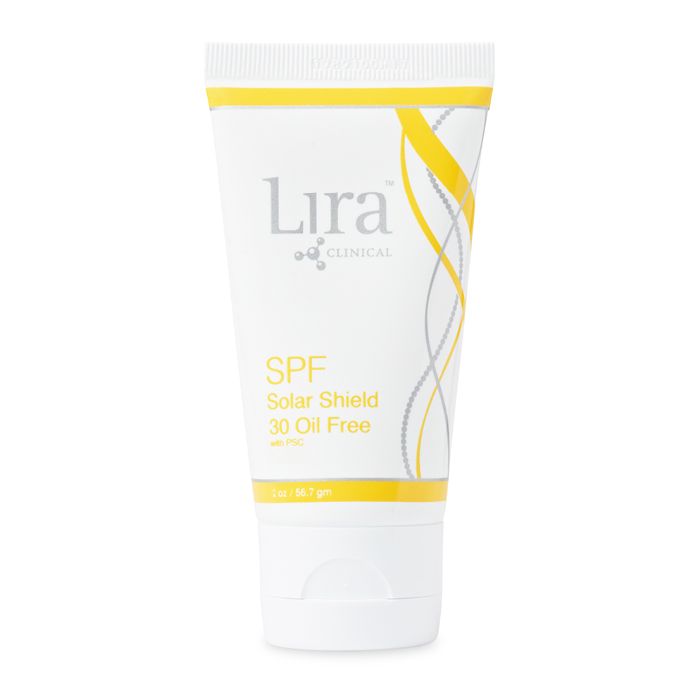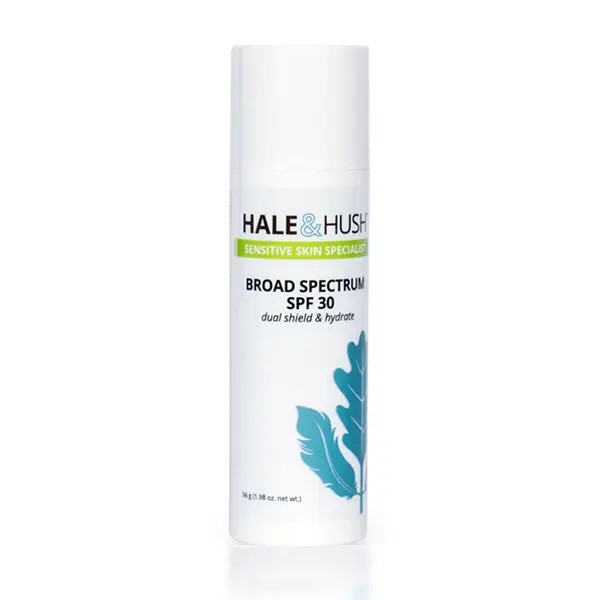 Hale & Hush Broad Spectrum SPF 30 $31.00
Broad Spectrum SPF 30 is the perfect combination of sun, sensitivity and age defense. This SPF has 13.5% Natural Zinc Oxide, which provides chemical-free broad-spectrum UVA/UVB protection at the surface while a specialized amino acid and algae blend (Porphyra Umbilicalis / Red Algae Extract is rich in proteins, vitamins and anti-oxidants) provides UV protection at the cellular level. 
Malic Acid from apples to smooth skin and promote cellular renewal Broad Spectrum is beneficial for all skin types; including Oncology and Auto-Immune Approved and works well for Sensitive/Reactive Skin, Roscea, Eczema, Melasma and more.
Skin Script Rx Sheer Protection SPF 30 $26.50
Skin Script Rx Sheer Protection SPF 30 is a lightweight, quickly absorbed sunblock that uses 13.5% Zinc Oxide to protect the skin from harmful UVA and UVB rays. In addition, it showers the skin with moisture and fatty acids for lasting benefits and improved vibrancy. Kukui Nut Oil (aleurites moluccano seed oil)- rich in fatty acids to fortigy the skin's lipid barriers and to provide the cells what they need for proper metabolism; absorbs easily into the skin to reduce inflammation and irritation while providing a smoother, refined skin surface. (Porphyra Umbilicalis / Red Algae Extract is rich in proteins, vitamins and anti-oxidants) provides UV protection at the cellular level.  kukui nut oil is great for reducing inflammation and preventing discomfort and itchiness. beneficial for the symptoms of, blemishes, ingrown hairs, eczema and psoriasis.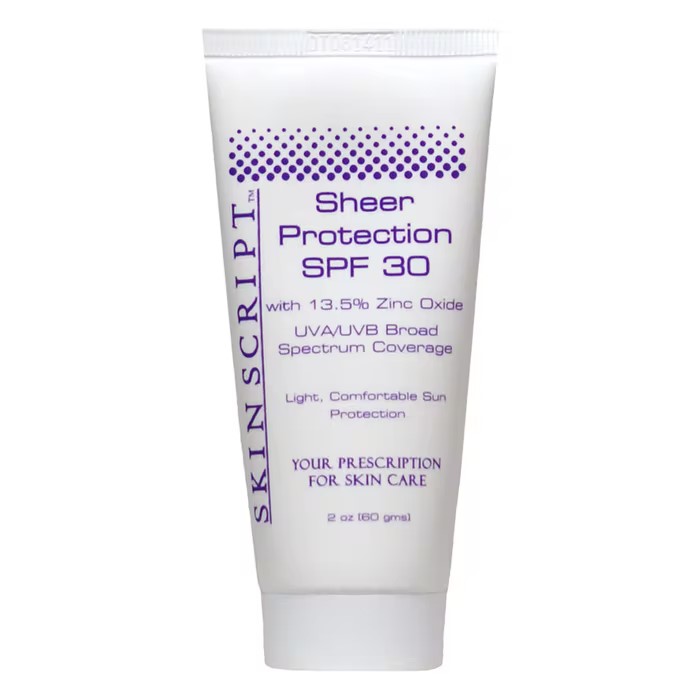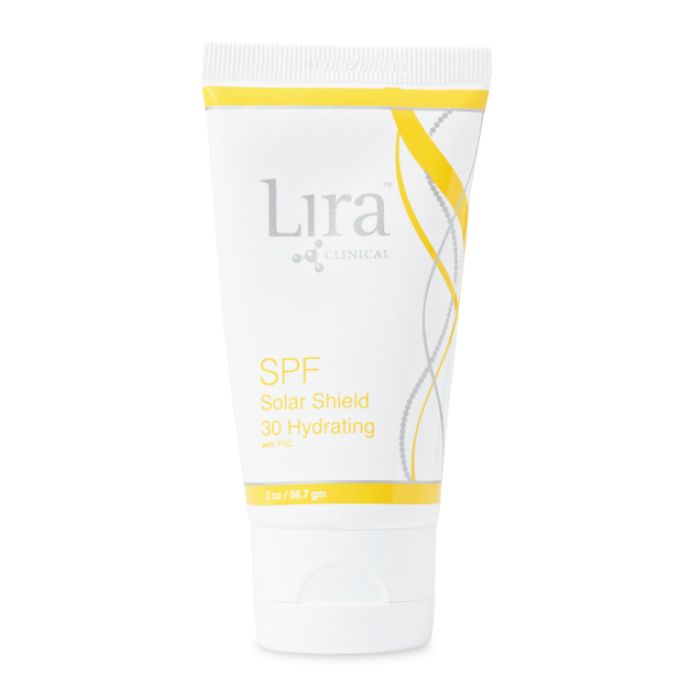 Lira Clinical Solar Shield 30 Hydrating $45.10
Last, but certainly not least, Solar Shield 30 Hydrating is a powerhouse of moisture and SPF in one incredible product. With amazing ingredients like peach kernel oil, sea oak, red raspberry, and lilac & echinacea plant stem cells, the versatile SPF improves your skin's barrier function activity, inhibits melanogenesis to naturally fight the effects of the sun, brightens complexion, and speeds wound healing. The Solar Shield 30 Hydrating is beneficial for all skin types but works especially well for those with dry, dehydrated, and hypersensitive skin types.
Beauty Balm: The Marriage of SPF & Skincare
In the 1960's, Dr. Christine Schrammek, a German dermatologist, invented a post-recovery treatment for surgery or laser procedures which went on to surge in popularity in Korea in the 1980's. By 2011, BB Crème's started to become popular in the United States.
Officially launched in 2015, Lira Clinical went on to win Dermascope Aesthetician's Choice Award two years in a row in 2016 and 2017. This award winning formula includes antiaging ingredients such as Indian Pennywort, Swiss Apple Plant Stem Cells, Grape Plant Stem Cells, and Vitamins A, C & E. This formula also includes brightening ingredients Arbutin and Mulberry Extract.
BB Crème can be used as an all-in-one daily moisturizer, SPF and full coverage foundation. BB Crème has anti-inflammatory properties that make it beneficial for after resurfacing treatments or for those with sensitive skin.
BB Cream comes in seven shades; BB Brite, BB Blanc, BB Tint, BB Sienna, BB Ambre, BB Bronze and BB Noir. Choose from one of the seven shades, or blend two to create custom shades.
Lira Clinical BB Creme $65.00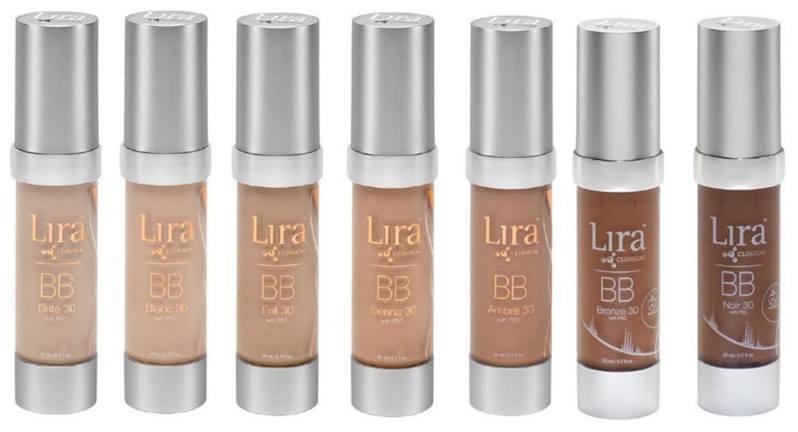 Secondary Protection Touchups
Powder Sunscreens are not meant to be used as the only sunscreen to protect the skin; however they do offer an extra layer of protection or compliment liquid sunscreens as a touch up. Most powder SPF's are formulated with Titanium Dioxide and Zinc Oxide; which are very good options for those with sensitive skin.
This is a very nice alternative for those who wear makeup, as the powder can be used to touch up the sunscreen coverage while providng a setting powder effect. For those with oily skin types, they will enjoy the powders mattifying effect. Powder suncreens should be used on the face, neck, declotte and works well in the hairline and scalp area as well.
Pro Tip: For those who have melasma, look for a mineral spf that has iron oxides for additional protection against blue light, which can contribute to hyperpigmentation (7).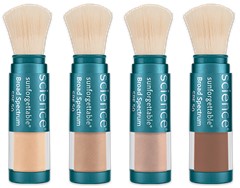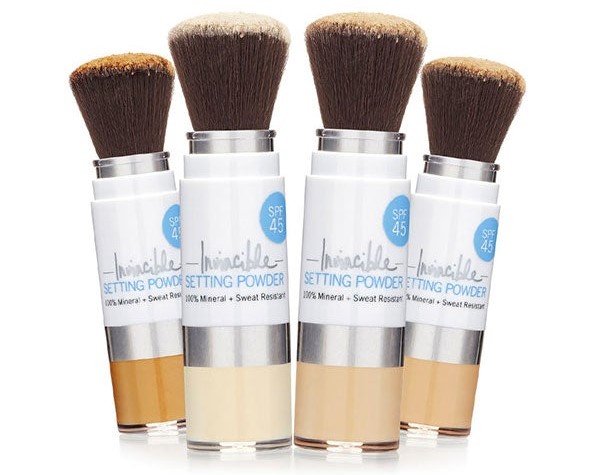 Sunforgettable Total Protection Brush-On Shield SPF 50– $69.00
This secondary touch up SPF includes 22.5% Zinc Oxide and 22.5% Titanium Dioxide. It boasts on being up to 80 minutes water resistance, cruelty free, and the only brush on powder sunscreen recommended by the Skin Cancer Foundation as an effective broad spectrum sunscreen Sunforgettable Total Protection comes in four shades; fair, medium, tan and deep.
Supergoop! Invincible Setting Powder SPF 45- $30.00 / Refill $20.00
Secondary touch up SPF has 20% Zinc Oxide and 15.7% Titanium Dioxide. Invincible Setting Powder comes in four shades; translucent, light, medium and deep.
Finishing Touches
For complete sun protection, I offer my clients Skin Script Rx's lip balm with SPF 15 or Amber Apothecary's SPF 15 Lip Balm in Vanilla Mint or Wild Berry.
Why do I not retail drug store brands? They don't include the ingredients that Amber Apothecary or Skin Script Rx offer. Amber Apothecary's lip balm contains not only antioxidants, but healthy skin ingredients for deep moisturizing perfect for anti-aging clients to target fine lines.  Skin Script's lip balm is perfect for my sensitive skin or reactive skin clients with ingredients like shea butter, vitamin E, aloe vera gel and sunflower oil.
More importantly than all of this, is that neither product contain common ingredients in drug store brands like petroleum jelly, parabens, menthol, eucalyptus, camphor, phenol / phenyl or alcohol.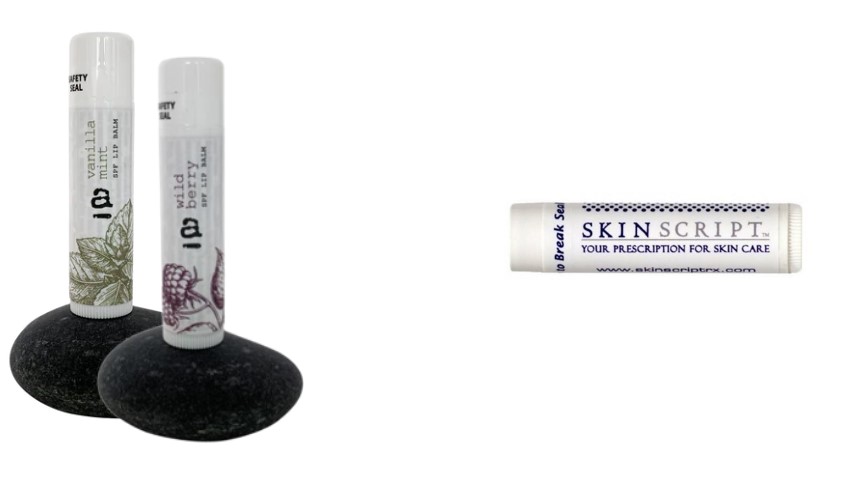 Amber Apothecary Lip Balm SPF 15– Wild Berry or Vanilla Mint – $5.00
A harmonious blend of Organic Sunflower Oil, Beeswax, Organic Extra Virgin Olive Oil, Organic Hemp Seed Oil, Rosemary, Aloe and Vitamin E applies smooth with a hint of shine. Petroleum Free, Gluten Free and Paraben Free. SPF 15 protects lips from sun damage, which helps to reduce fine lines.
Skin Script's Lip Balm SPF 15– $5.50
This SPF lip balm contains Octinoxate 3.6%, Octyl Salicylate 2.5% and Oxybenzone 1.5%. Created especially for dry lips, this lip balm has a light tropical punch flavor while moisturizing with ingredients like Sunflower Oil, White Beeswax Pastlles, Cocoa Butter, Shea Butter, Vitamin E, and Aloe Vera Gel. The taste reminds me of a really light tropical punch flavor.
Sunscreen types I did not include in this blog are stick sunscreen and spray sunscreen. Things that I will note on these two types of sunscreen:
Stick Sunscreen, in my opinion, its not the most hygenic option. Keeping in mind, most users of stick sunscreen use the product from face to feet. 
Spray Sunscreen is another option I don't carry in my retail. Spray Sunscreen can not be directly sprayed on the face; as they contain lung irritants such as Titanium Dioxide. Spray sunscreen commonly contain aerosol and alcohol in the product, which is highly flammable and can be considered dangerous. Lastly, with a spray delivery, there is no way to ensure an even coverage of sun protection, especially during windy days.
References: