November 8th, 2023
Announcing 2024's Bliss Bucks Program!
Keeping The Tradition of "More Spa. Less Money."
Since we have opened doors, I have given out "home care samples" to clients who have had hybrid peel/facial treatments or just to clients who want to try out a product for a few days before making an investment in a product. Let's be honest, skincare products are an investment. There is nothing disappointing like wanting to try a product, and purchasing it only to have it not give you the results your looking for.
I like this approach with my clients because when they do try the products I prescribe them and come back and say they love it, it only gives me more validation in understanding what ingredients or products they need to add into their skincare routine to bring them those targeted results they want. And that's what I am here for. It brings me great joy to do the job I have and watch my clients reach their skincare goals, see the excitement and see their self confidence rise.
I spend a large amount of time reviewing things in my practice. This includes the availability and ease for clients to be able to book services, communicate, purchase the items they need and more. Trying new products for a low cost can be extremely beneficial for my clients. Hence, the sample program.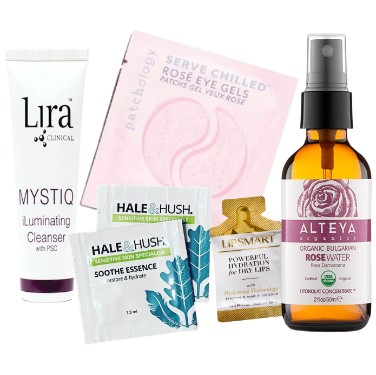 Some of the lines that have samples are:
Hale & Hush Skincare
Lira Clinical Skincare
LipSmart
Patchology
Alteya Organics
Beauty Blender
Cuccio Naturalé 
Boulder Dushanbe Teahouse
theBalm Cosmetics
Rouge & Rye Perfumed Oils and more
But what exactly is Bliss Bucks?
It's actually the best part of this announcement. What is better than getting low cost samples? FREE samples!
Excited? Me too.
The Bliss Bucks system will work like this. For every $1 you spend in spa on retail purchases or in our online store, you will receive $1 Bliss Buck. The points you earn in spa will be converted into the online account connected to our website; www.theavalondayspa.com. You will be able to save points, shop products, convert your points to free sample items and then choose "Curbside Pickup". Pick up at your convenience, or enjoy free shipping for purchases over $60. Just that easy.
Launch date for this program will be at the beginning of February, but that doesn't mean you can't enjoy sample products at a low cost now. The Avalon Day Spa is adding more sample products each month, so if there are certain samples you are looking to try please contact concierge at 248-686-1259.
Currently samples we have in stock:
Hale & Hush Quiet Wash 1.5ml $1.00
Hale & Hush Refine Polish 1.5ml $1.00
Hale & Hush Rare C Serum 1.5ml $1.00
Hale & Hush Rare Retinol Serum 1.5ml $1.00
Hale & Hush Rare Mandelic Serum 1.5ml $1.00
Hale & Hush Soothe Essence Serum 1.5ml $1.00
Hale & Hush Remedy Rehab Oil 1.5ml $1.00
Hale & Hush Hush Hydrate Gel 1.5ml $1.00
Hale & Hush Vital Lipid Lotion 1.5ml $1.00
Hale & Hush Saffron Meristem Cream 1.5ml $1.00
LipSmart Lip Treatment $1.18
Lira Clinical ICE Balancing Lotion $8.16
Lira Clinical Solar Shield Classic Tint SPF $8.66
Lira Clinical ICE SAL Cleanser $7.16
Beauty Blender Pro Solid Bar $6.00
Cuccio Naturalé Vanilla Bean & Sugar Cuticle Oil .125oz $1.25
Cuccio Naturalé Pomegranate & Fig Cuticle Oil .125oz $1.25
Cuccio Naturalé Milk & Honey Cuticle Oil .125oz $1.25
Boulder Dushanbe Teahouse 7 Chakra Blend Tea $0.55
Boulder Dushanbe Teahouse Tranquility Tea $0.55
Alteya Organics Bulgarian Rose Water 2oz $7.95
Alteya Organics Chamomile Water 2oz $7.95
Patchology Serve Chilled Rose Eye Gels $3.00
Patchology Rejuvenating Eye Gels $3.00
Patchology Iluminating Eye Gels $3.00
Patchology Restoring Eye Gels $4.00
These prices are always to be changed as the manufacturers suggest and make changes themselves. Make sure to follow our monthly Spa Society Newsletters as we grow our programs!