February 1st, 2023
2023 Spring / Summer Makeup Inspiration Runway Macchiato 90s Redux
90s redux in fashion is not new, the style of that decade has made several comebacks with slightly varied updates. In 2010, Elle reported that fashion styles with grunge flannel shirts and body-con dresses were appearing on runways (1).
In 2012 Harper's Bazzar reported that distressed denim, combat boots and anything plaid was trending (2), this same year brown matte eye shadow was trending. In 2020 Harper's Bazzar reported the brown, matte lip was trending (3).
Fast forward to 2021, and the 90's Supermodel Lip started to trend again. I keep seeing the 90s Redux coming back with updated textures and the thing that we need to remind ourselves is that in the 90's everything was matte, powdered and dry.
Makeup 90s Redux trends that are emerging in 2021, 2022 and now 2023 are not dry powdered finishes but the skin is fresh and glowing. Lips are not dry and matte, but full and slightly satin. I find that overall, it is much more healthier looking than that of the 90s.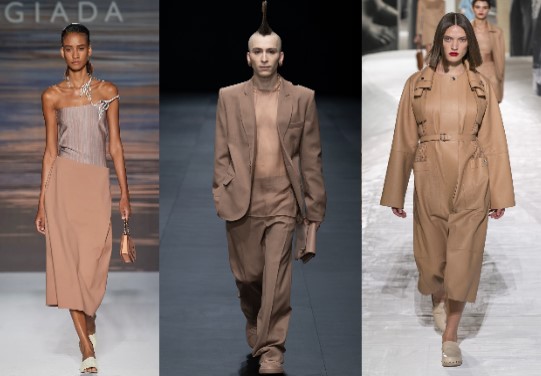 Viewing the 2023 Spring / Summer Collections, I was glad to see a soft wearable neutral be featured. Neutrals can be paired with bright fun colors and certainly looking at Pantone's Spring / Summer palette, we can see this. Colors like the bold fushcia, Beetroot Purple and the intense Fiery Red can be selected with a neutral color to balance out a look.
Enter Pantone 17-1221 TCX Macchiato. It's an earthy, warm tone brown that reminds me of coffee with cream. It's a color that to me reminds me of "comfort". This light, soft brown pairs well for spring neutrals.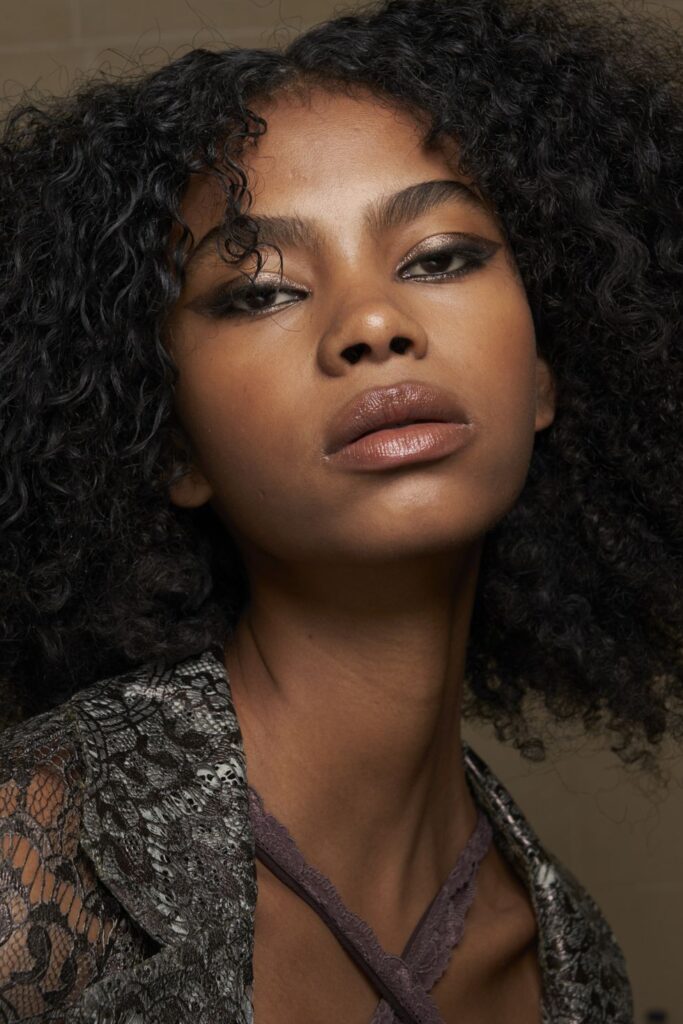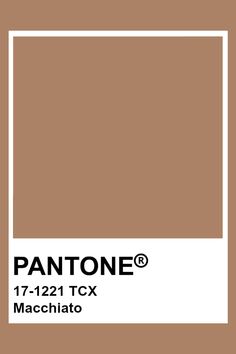 As such, it pairs well with darker earth toned browns and shimmery bronze. Which is where we are with today's 90s Redux makeup looks. Gone are the mattes, and now we have shimmery bronzes, satin finishes, and metallic taupe and browns.
Today we will talk about two palettes; a eyeshadow palette and a cream to powder finish multipurpose palette. We will also talk about the iconic 90s Supermodel Lip, I hope this blog post inspires you to create your perfect 90s Redux makeup look.
Lorac Pro Palette Fairytale Forest $39.00
Loracs Fairytale Forest is a fairytale of 18 colors, a collection of matte, shimmer and metallic foils that all are inspired in nature. Enriched with vitamin E, cucumber extract & shea butter, these highly pigmented shadows blend effortlessly. This palette will give you many options to mix different finishes and textures for eye looks.
Colors:
Top Row: Birch (soft tan matte), Oak (beige cream matte), Earth (warm brown matte), Rosewood (soft eggplant matte), Mushroom (greyish brown matte), Fog (smokey grey matte)
Middle Row: Northstar (soft baby pink shimmer), Komorebi (pearl shimmer), Enchanted (bronze with golden olive shimmer), Butterfly (golden pink shimmer), Wind (forest green with golden shimmer), Redwood (true terracotta matte)
Bottom Row: Folklore (champagne shimmer), Pine (soft copper metallic), Grove (toasted golden brown metallic), Wildflower (rich plum with golden shimmer), Evergreen (emerald shimmer), Woodland (reddish cocoa matte)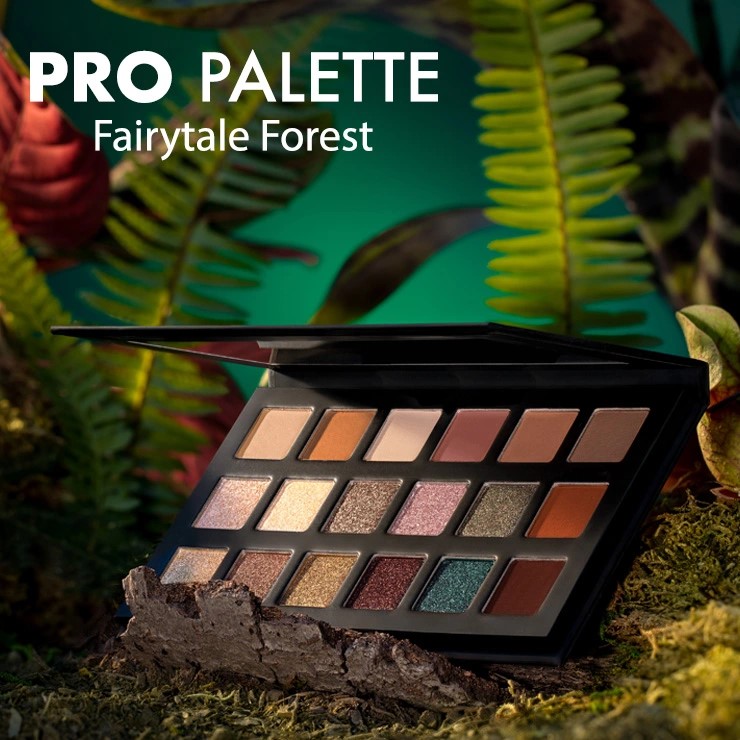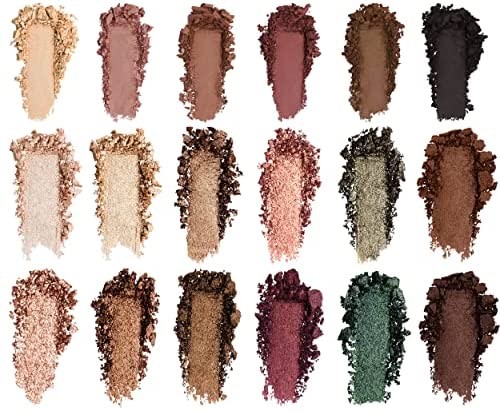 Iconic London Multi Use Sculpting Palette $49.00
This extremely versatile and popular palette was launched in 2018 but recently got an update. The cream to powder finish can be used for eye shadow base, conceal, contour, and highlight.
What I like most about this product is the ability to blend everything out. You can blend and diffuse the product across the face to deliver medium coverage with a natural-looking, second-skin finish.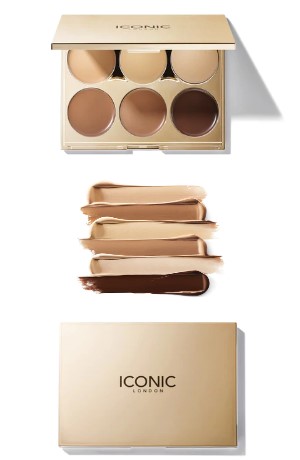 Watch LuLu from Iconic London use this palette in the above video!
The 90s Supermodel Lip has resurfaced many times, however now we see this trend with a satin or gloss finish. In the 90s, the look was a darker ring without blending, a outline of the upper and lower lips. The updated version is blended perfectly- a diffused blending technique that makes the lips appear fuller but in a most natural way.
Anastasia Beverly Hills Satin Lipstick in Soft Brown $23.00
This satin finish lipstick is perfect for your 90s Supermodel Lip. Smooth and soft, this satin finish lipstick is highly pigmented and comfortable to wear. The formula is: Cruelty-Free, Paraben-Free, Phthalates-Free, Sulfate-Free, Oil-Free, Mineral Oil-Free, Alcohol-Free, Talc-Free, Dermatologist Tested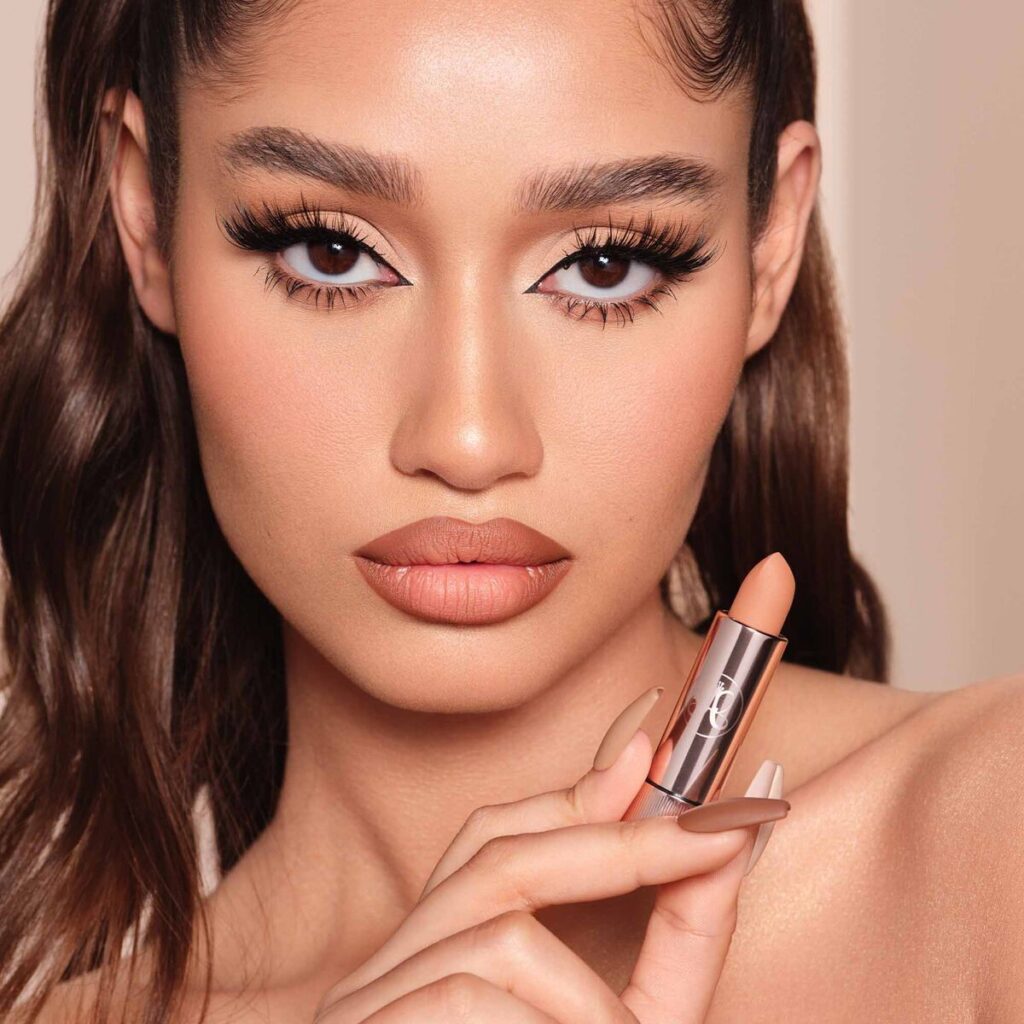 Giorgio Armani Lip Maestro Velvet Liquid Lipstick In Sospiri $31.20
Hurry and swipe up this iconic shade, because at the time of this publication, Armani has this shade discounted and on the "last chance" list. Different than a traditional matte, this liquid lipstick has a "velvet matte" creamy finish, which is more comfortable to wear. Highly pigmented, they promise up to 8 hours of wear.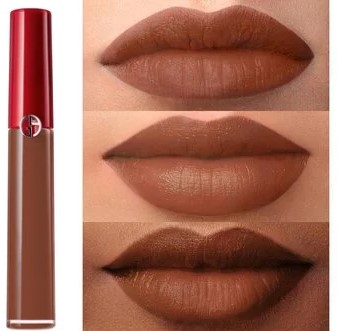 M.A.C. Cosmetics Lip Liner In Cork, Oak, Chestnut, Mahogany, Boldly Bare, Stripdown $23.00
M.A.C. has a line of iconic lip liners in neutral brown shades that are wildly popular for good reason. They apply well, are long lasting and have a good price point for how long this product lasts.
Cork: Muted Golden Brown – Medium Skin Tones, Deeper Skin Tones
Oak: Soft Beige Brown- Pale, Fair Skin Tones and Medium Skin Tones
Chestnut: Intense Brown – Medium Skin Tones, Deep Skin Tones
Mahogany: Intense Reddish Brown – Medium Skin Tones, Deep Skin Tones
Boldly Bare: Dirty Red Brown – Pale, Fair Skin Tones
Stripdown: Creamy Brown Beige – Fair Skin Tones, Medium Skin Tones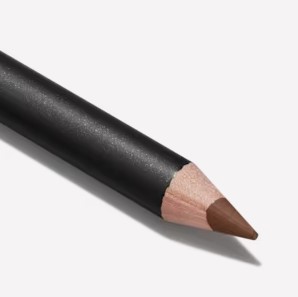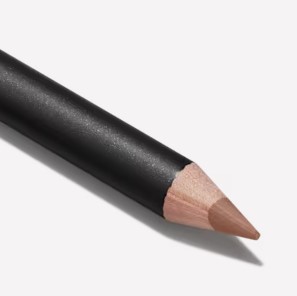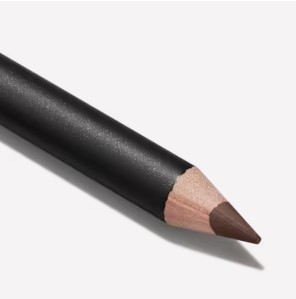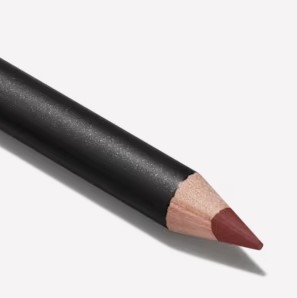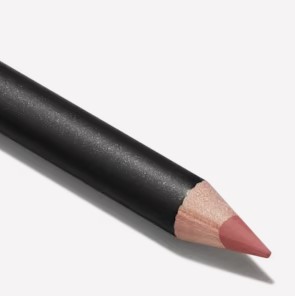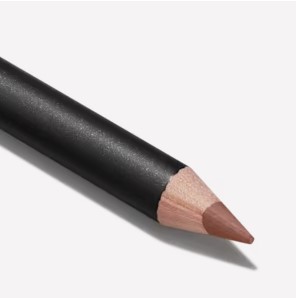 PRO TIP: How To Master the 90s Supermodel Lip
Exfoliate and Moisturize the Lips- Start your lip look with fresh, hydrated lips.
Use a liner that is only two or three shades deeper than your natural lip color in a warm shade. Your nude lipstick should also have a warm tone.
Carefully line your lips with a dark liner, making sure to emphasize the edges and be very careful on the cupid's bow and outer corners. Fill in the outer half of the lip as well, or lightly feather around the rest of the mouth.
Carefully apply nude lipstick, starting in the middle of the lips and working your way out. Apply so you are blending into the liner but not covering the liner fully. Blend carefully with a lip brush, blending without leaving any hard lines.
After the first layer is complete, blot the lips with a piece of tissue paper, apply the lip liner, lipstick, and blend again.
References:
https://www.elle.com/fashion/a12201/90s-redux-445618/
https://www.harpersbazaar.com/fashion/trends/a12563/trending-now-in-our-store-nineties-redux/
https://www.harpersbazaar.com/beauty/makeup/g33597880/90s-makeup-looks/